It seems like ages since I last did an outfit post, so here's 2 in a row! First of all, it's that blue dress again! I wore this to go shopping with my housemate last week, with my new (ish) trench coat. I'll post the details of it sometime, because for me it's those subtle details that make it special in comparison to other trenches! My mum bought me these shoes from M&S, and despite their style (they look like they could be very toe crunchingly uncomfortable) they're very comfortable! I'm not yet sure how they'd stand up for a whole day of walking, but they're fine for a couple of hours of walking!
Then, here's what I wore today for my induction at work. I wanted to look appropriately smart but also show my personality, so I thought this outfit would work well! I love this pencil skirt, my only wish is that it was a little longer, because it hits just above the knee, which isn't quite long enough for my taste in pencil skirts, but it's never indecent! The cardigan is from my recent trip to the newly-opened Primark in Guildford. I said to myself that I wouldn't go, but my housemate took me (on the above mentioned shopping trip) and I couldn't resist this cardigan! It's just lovely!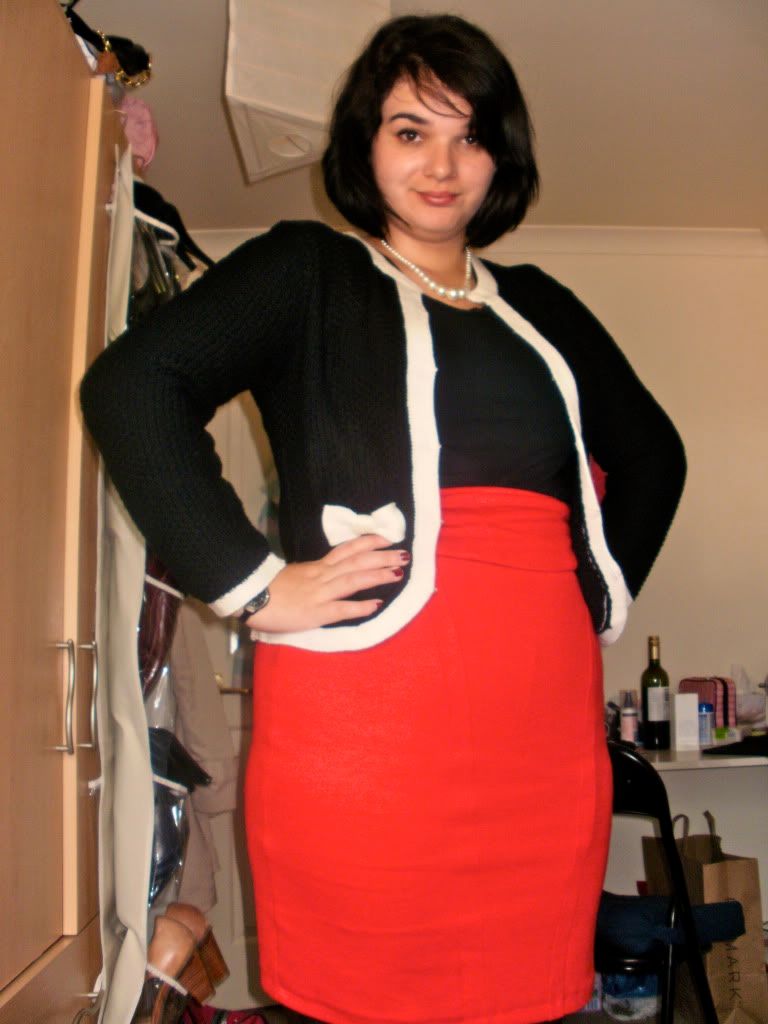 I start my job on Sunday, I'm really looking forward to it especially after my induction today. Everyone seems really nice, and the floor manager I met today seemed to indicate that they understand that everyone makes mistakes when they first start working there, which is good, because some workplaces are very unaccepting of mistakes from their new employees! I also get an allowance - 75% off clothes & accessories for my uniform for a certain amount of money, then the rest is 25% off (for an unlimited amount), which is definitely yummy. I am going to enjoy working there I think if nothing else but for accumulating all these lovely cheap clothes! :)
Hope you're all having a lovely week!
Currently listening to: Crazy little thing called love by Queen