So, here is the 2nd installment of my photos of Paris. Just to reiterate so that you don't expect miracles: I am not a photographer in any way, and I cannot afford a super posh camera (SLRs are
totally
out of my price range) so we're left with whatever my little camera can do.
Anywhoo, so, here we go!
On the morning of day 2, we walked from our hotel in the direction of the musee d'orsay (more on that later...) and went past a few rather nice sights.
This is the church of St. Madeleine, really pretty. But we couldn't go inside for some unexplained reason, it said it should be open, but it wasn't. Ah well.
Meanwhile, we poodled on down a
rue
and went past the mothership: (can you tell what it is yet?)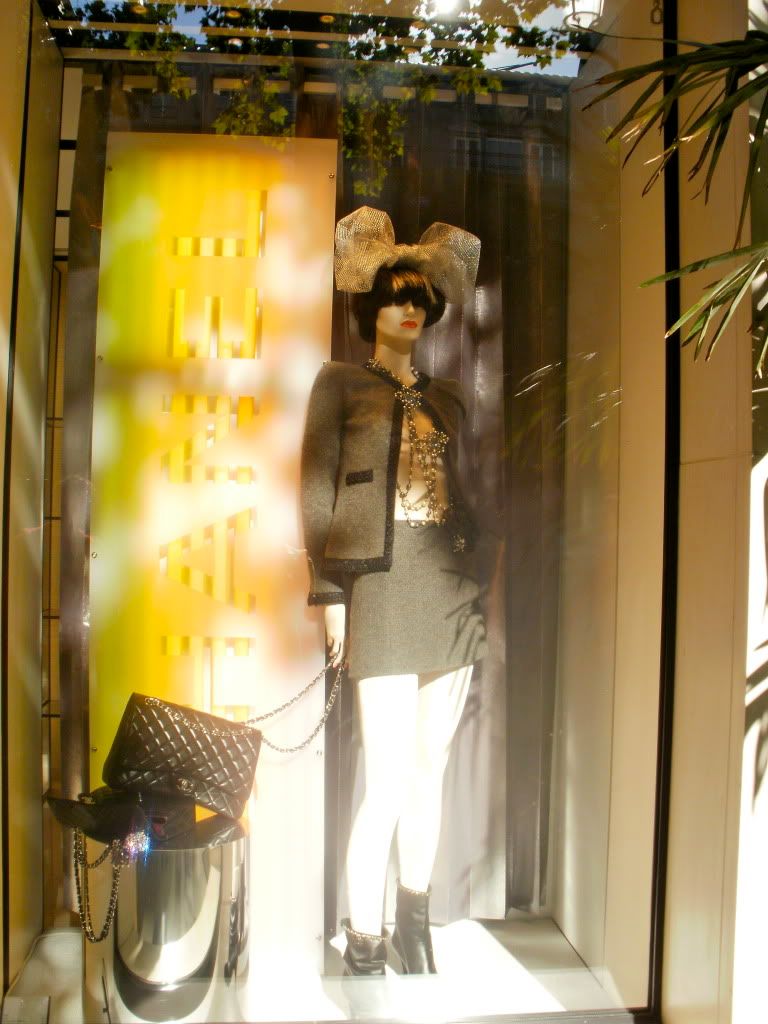 We went via Le Place de la Concorde, but for some really odd reason, I didn't take any photos. Anyway, from there we then went to the musee d'orsay. This is me, outside, just hanging out with my mate Vincent: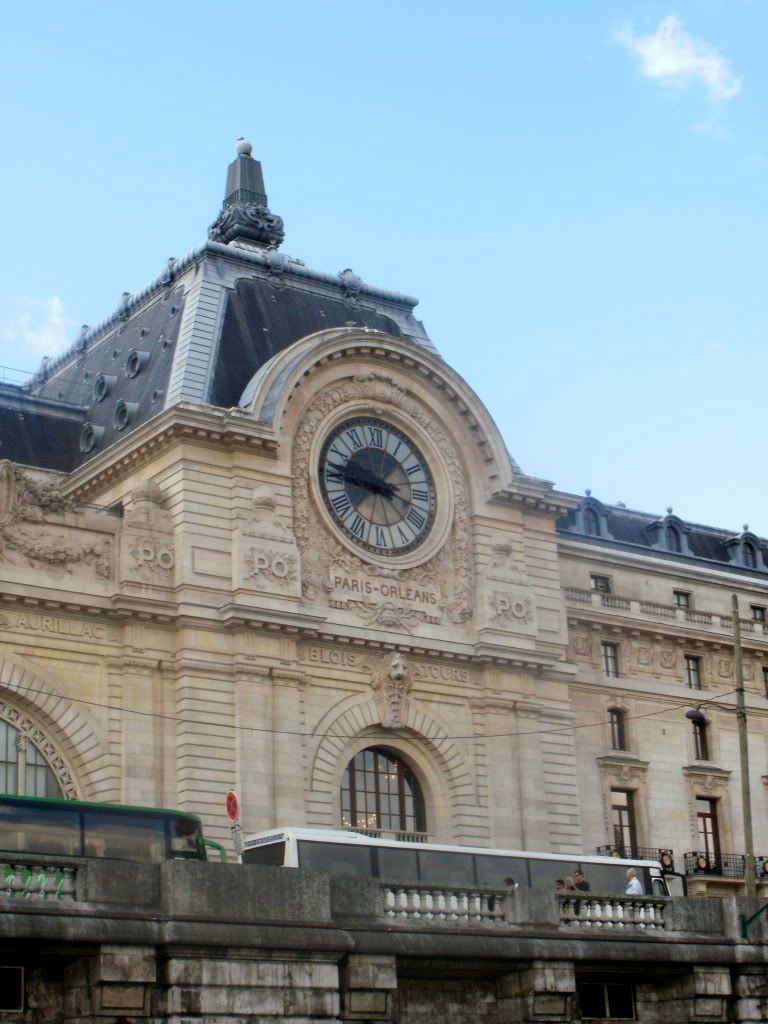 It's a really beautiful building, I was surprised. I think I would've enjoyed it more had I been allowed to take photos inside. I kid you not, it was the only place in Paris that forbade photo taking. You couldn't even feign ignorance there were signs everywhere, on penalty of death! (I might've made that last bit up, but there really were signs everywhere, and security guards patrolling to make sure no sneaky photos were taken.) I felt like it was such a shame, because there were some beautiful pieces of art inside and I couldn't take any photos and now I don't remember what they looked like :( Anyway, enough moaning, from outside the musee we caught one of those batobus things. Probably the best thing since sliced bread, because they let you sit down for an hour (depending on where you're going, of course), while taking you to places of touristy interest, with a lovely view. We went under le pont des artes, where if you put a padlock on it and throw the key into the Seine then you're supposed to find love or something. There must be lots of rusting metal in that little bit of the Seine. But it's a cute concept, right?
We also went past Notre Dame (I watched film yesterday. It's pretty good, although I still intend to read the book, I just love Disney. In my little blinkered world, they can do very little wrong!)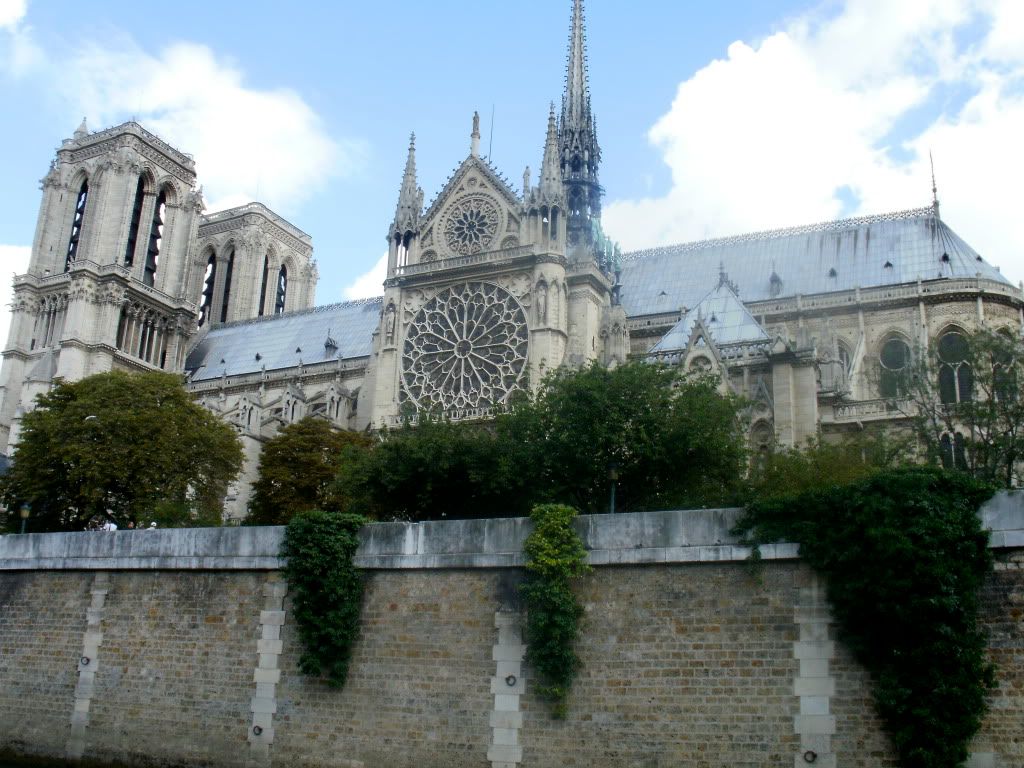 Paris has a reputation for being full of beautiful people. I wouldn't have said that every person I walked past was a stunner, but I didn't see one Parisian wearing tracksuit bottoms or anything. Lovely. These 2 were on boat and particularly well dressed. I would've married either of them (not true, but how many men do you see these days wearing 2 toned brogues?!) :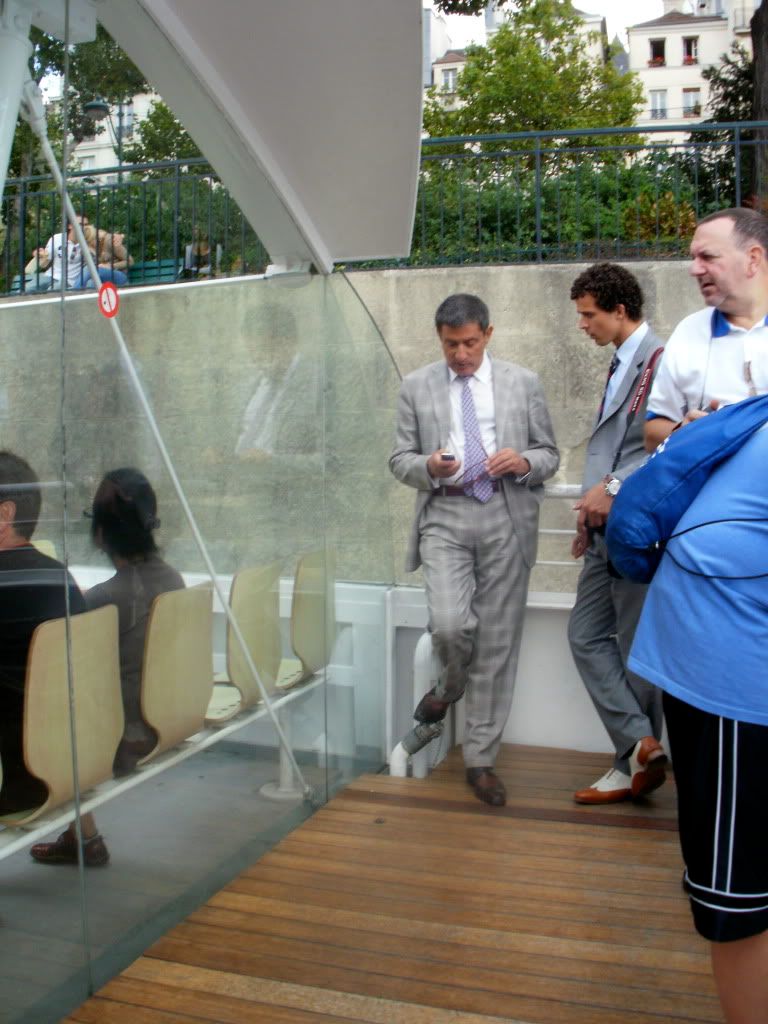 Pont Alexandre III: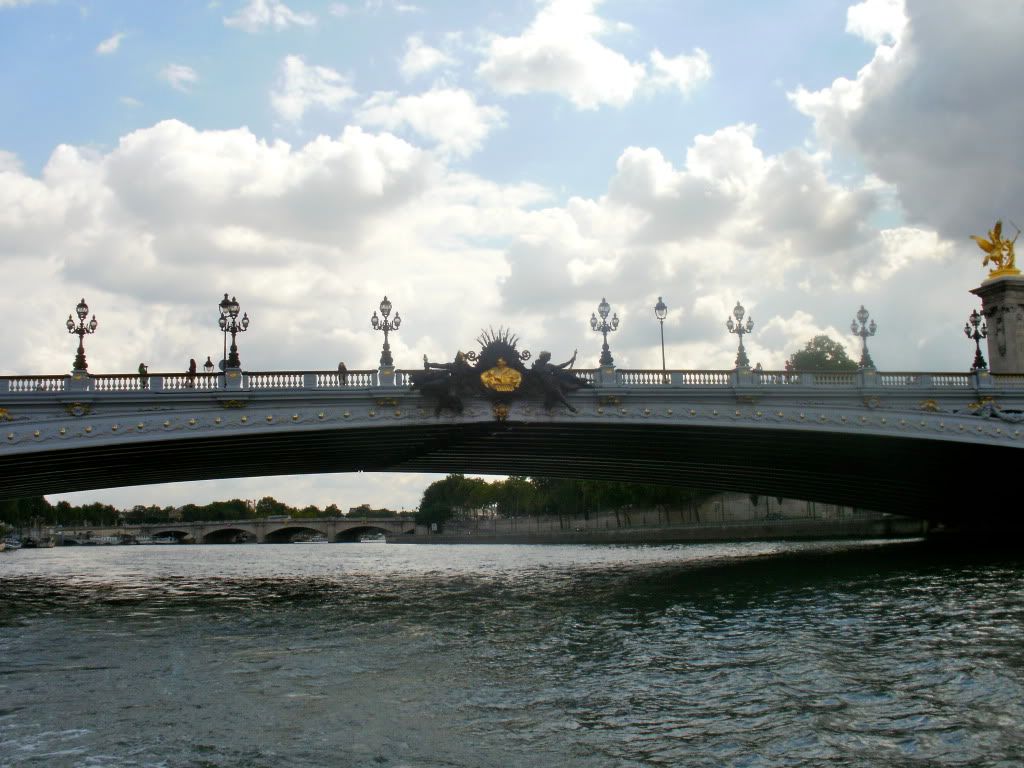 And finally, le tour Eiffel: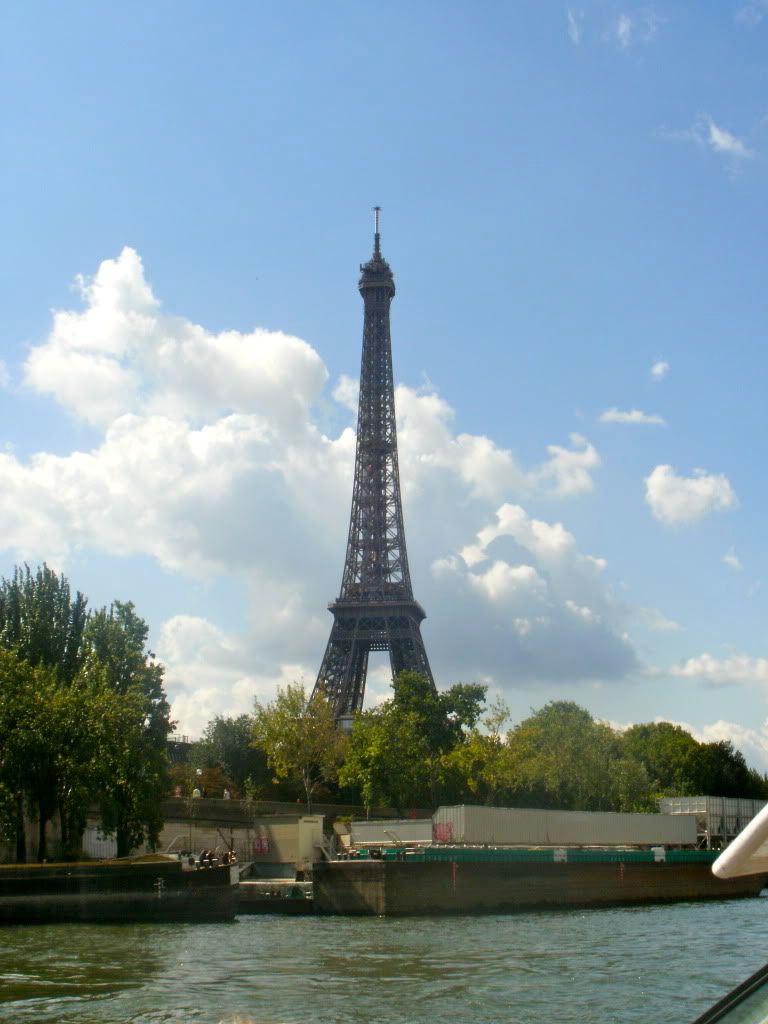 I've walked up it before, so decided to skip that bit and get the lift. Also, my knee was giving me a bit of pain, I think from all the walking, so I don't think it would've taken kindly to 1000000000 stairs (again, slight exaggeration, but I've done it once, so I'm proud, the end). Some views from the top, le Trocadero: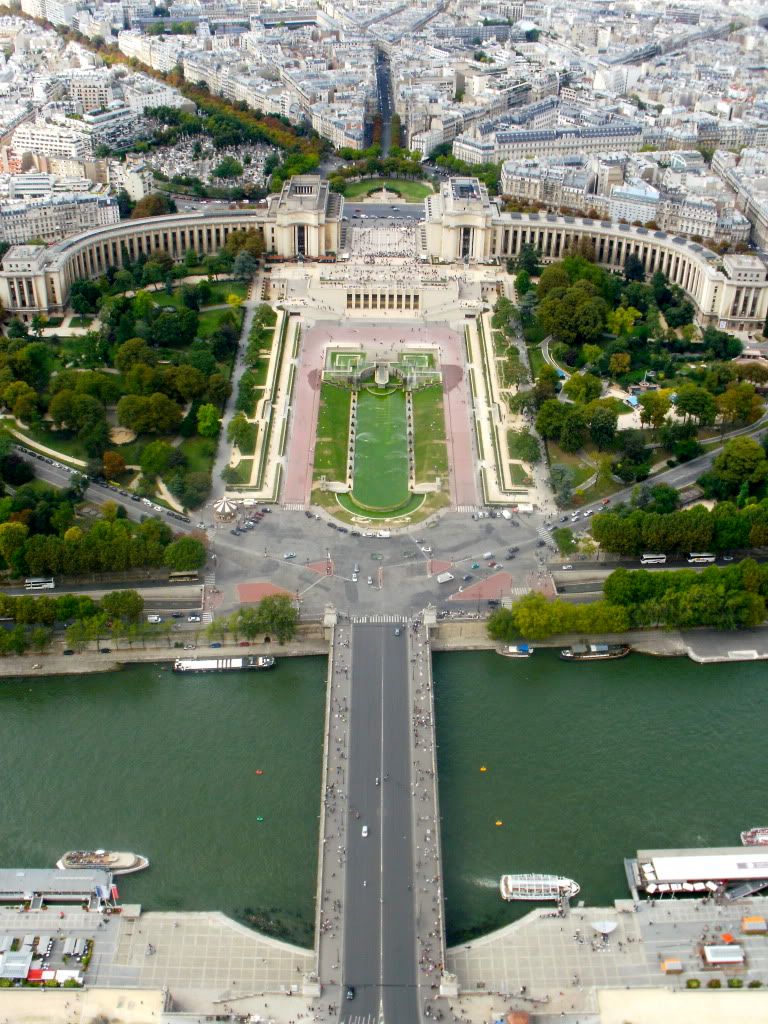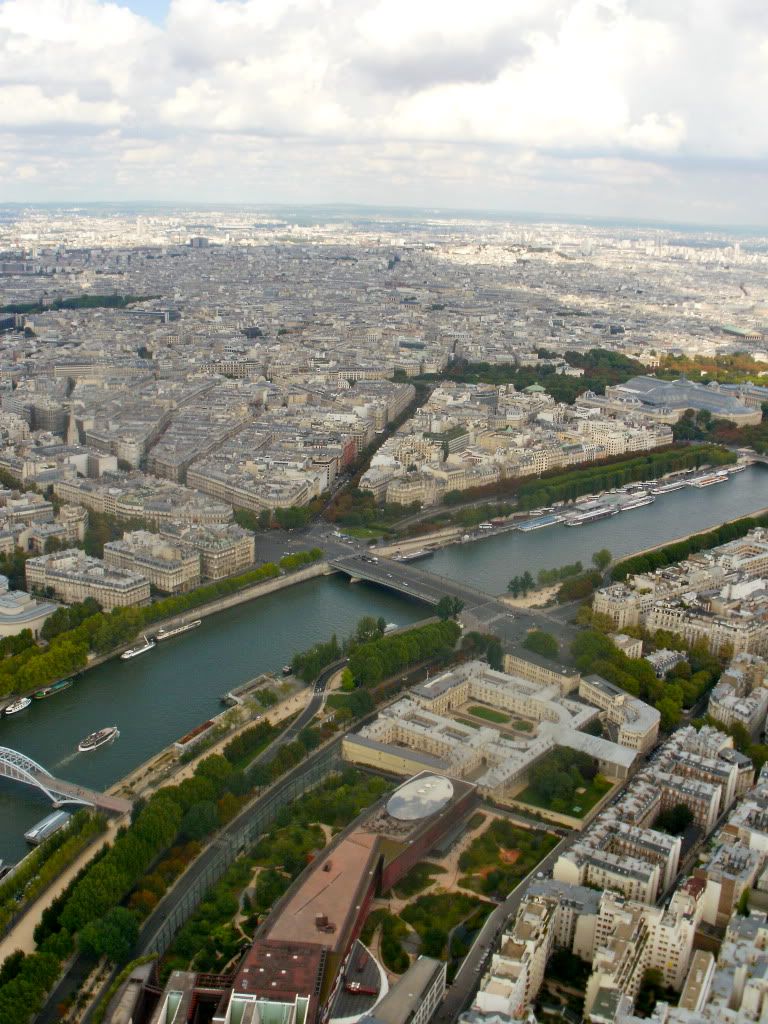 Then, we decided to walk home, via Notre Dame. For me, it's one of the most beautiful sights in Paris.
I particularly love all the statues. During the French Revolution, they de-faced all the statues on Notre Dame, because they seemed to regal and kingly. They stayed all de-faced until the early C19 when most of them were restored. They left a few without faces, probably to remind everyone of how they used to be?? Maybe.
Then, it had been a
long
day with a lot of walking, we went to bed. The next day, we went for another long walk, to l'arc de triomphe, which I'd never been 'inside' of before. We didn't go to the top, didn't see the point and it was expensive. But we stood in the middle, and it was really cool. At one end, the view stretched all the way to la Defense, where you could see le grande arche (misnomer in my opinion, it's a bloody square!), and in the other direction, all the way down the Champs-Elysee. There was also a memorial to an un-named soldier of WWI, in whose memory the arch was built, I
think.
(Please correst me if I'm wrong on any of my historical facts!)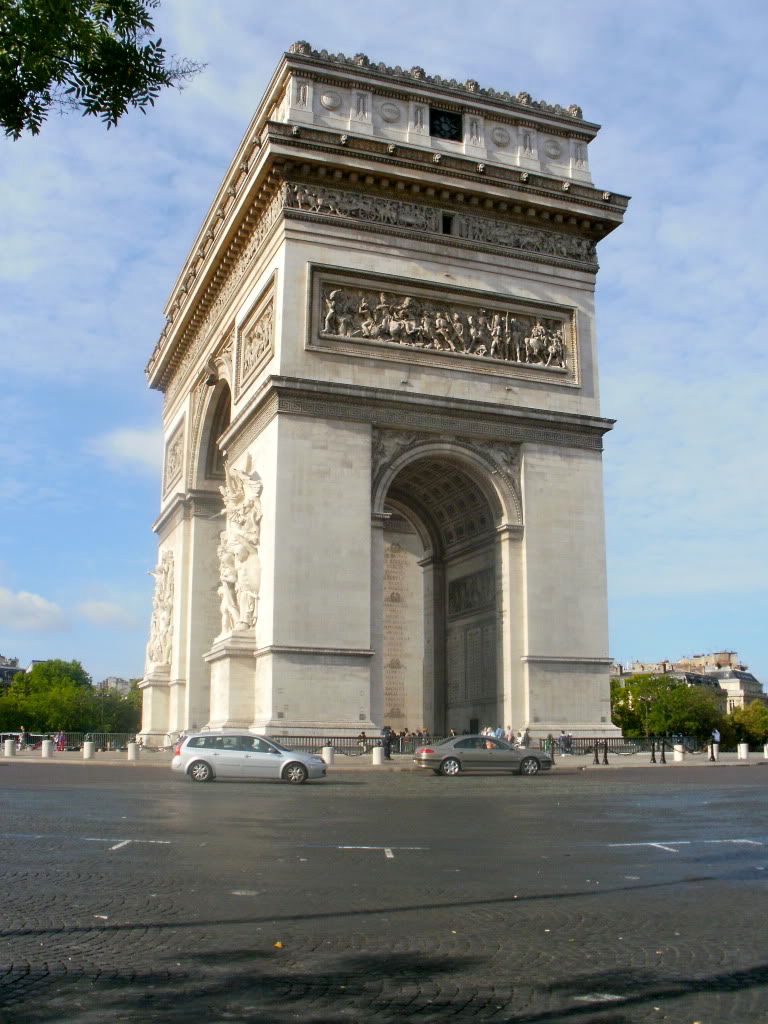 Then we walked all the way down the Champs-Elysee, which is deceptively long. Especially on a Sunday morning when none of the shops are open to browse in on the way down :( (Turns out no shops are open on a Sunday,
except
on the Champs-Elysee, so that was a bit of a bummer, and half of restaurants aren't open either. Which coming from Britain where everything's open 7 days a week was quite a shock to the system!) Anywhoo, we walked all the way down there, through le Jardin Tuileries to le Louvre.
However the queue to get in was about 100 miles long, and because all of us had been in before, and James doesn't much like art anyway (he hated the orsay!) we decided to give it a miss.
For the rest of the day, we poodled around a bit, and then we had to walk back home via the Champs-Elysee again because some idiot *cough* didn't bring enough clothes to wear and had no top to wear on the way home. That was the biggest detour ever, and we were all very pleased to sit down and rest!
Hope you're enjoying having my holiday snaps inflicted upon you all (this isn't even half of them, I got a bit trigger happy!) and this is inspiring you all to go to Paris!! (I want to go again already!)
Currently listening to: You're so Vain by Carly Simon (did you know Mick Jagger is a backing singer for this song? Listen, he has a really distinctive voice, you'll hear him a mile off! Sort of)